Brampton
Tech Fair 2019
Lots of playing and learning!
Workshop on basic 3D web games programming
Programming workshop
Our lucky winner!
Nat's Robotics Academy Team
Free
Nat's Robotics Academy Workshop
Join us for a free, 60-minute workshop that teaches kids how to code with Lego Mindstorms EV3. Ages 8-12.
UPCOMING WORKSHOp
inside the Microsoft Store at Square One, Mississauga – ON
Sunday – December 15, 2019
from 11:00 am to 12:00 pm
Register Here
HAVE FUN AND LEARN!
Our Mission
"To provide birthday kids with unforgettable experience, to entertain, teach and inspire them in the world of robotics!"
For Kids, by Kids!
Nat's Robotics Academy is a company run by kids, for kids who are enthusiastic about Science and Technology!
Why Us?
We are also kids, so we understand our clients very well! We will engage your kids in learning how to build and program the robots, and they will have loads of fun!
Where
If you live in Toronto and the GTA, you can invite us to your kid's party – and leave the entertainment and fun to us!
Age Group
Our programs are customized per age group, from as young as 5, to 12 years old. Please check below for more details.
Our Awesome Young Team
We want to share our love for robots and passion for technology with other kids and spark their interest in the wonderful world of robotics!
Nat
Owner/Instructor
Hi, my name is Nat and I am 15 years old. My passion for robotics started when I turned 5, on my first robotics birthday party! Since then, I have been learning coding, going to clubs and building my own robots at home. I am now a Sci-tech student and competed at the First Lego League with my school. I have been doing the monthly workshops at the Microsoft Store for a year now, and I also teach karate to kids. I love my work because I also have loads of fun!
Aryaen
Instructor
Hi, my name is Aryaen and I am 13 years old. I started with programming language, Python, from York University when I was 9. Later on, I got interested in robotics, specifically Lego robotics as I am a big fan of Lego. I am in Grade 7 and go to a Sci-tech school. There, we are building Sumo-robots with Lego. I have worked with Nat in a couple of things like our school's bake and craft sale and fund raising in karate. I am a 2nd degree black belt and an instructor in Karate. Lego robotics is very interesting and fun; it might even become your passion!
Alex
Instructor
Hi, I'm Alex and I am 15 years old. I have always thought robots are interesting and I love working with kids. At the age of seven, I joined a Lego robotics club, and went up the ranks. When I was at the top, our instructor challenged us by making us build assembly lines and help the new children complete their very first project. I then volunteered in my middle school's summer camp, helping out the little ones complete their activities. In high school, I helped two groups of ten kids from grades four to eight get into the First LEGO League (FLL). I hope to help them next year!
Contact Us
If you have any questions or comments, please complete the form below:
What Our Clients Say
"Overall, the party went great and the kids loved it! Raj had a fashion day and he wore the t-shirt you gave him and all the boys were jealous – they all wanted one too!! My only suggestion would be maybe before you start, you could let the kids know what they will be doing – sequence of events i.e. build, program and play! Also, I think the session should be broken up as I noticed the kids got hungry and needed a break. All in all – you are doing great and we wish you all the best!"
Mandeep
5-7 year old Party
"Ron had a great time. All the kids had a lot of fun. It went very well and you had great engagement with the kids. We also liked the puzzles for the parents. I appreciate you simplifying the robots for their age group. "
Toni
5-7 year old Party
"On behalf of the Planning Committee, we would like to extend our heart-felt gratitude for your involvement and hard work to the success of the 8th Annual Fuyu Matsuri – Winter Festival 2018. We had over 1200 visitors this year, having touched the hearts of many people and encouraging so many to spread their experiences with the beloved friends and families. The festival would not have been as fabulous as it was without your participation and generous support. We truly appreciate your selfless support and recognize that your commitment is vital to the success of the JCCC. We look forward to working with you for many more years to come."
Yuki
JCCC
"We had Nat's Robotics in our school Funfair . Kids had a great time playing with robots . They were very engaging and entertaining and attracted many students. Nat was very nice and it was a pleasure having them as part of our Funfair ."
Shadi
School event
"Thanks Nat for being part of Josh's birthday. You guys did an amazing job."
Michelle
8-10 year old Party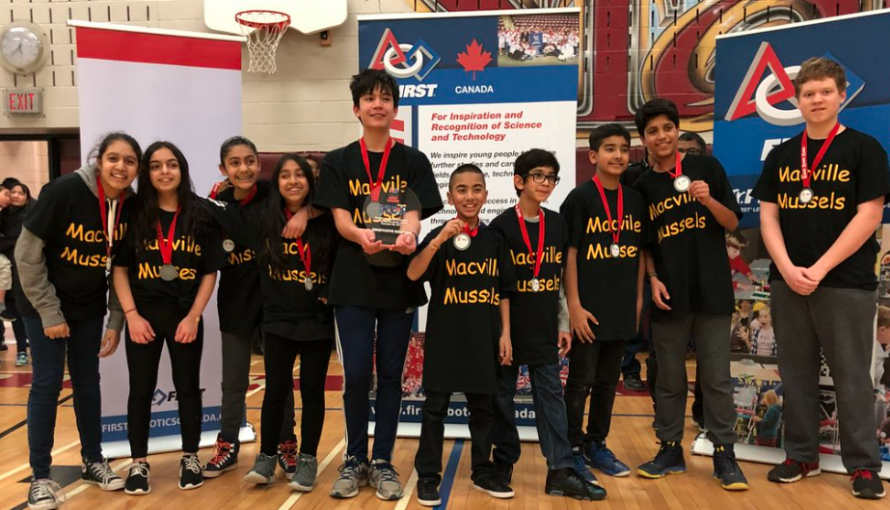 On Twitter – December 10, 2017 On December 9, 2017, I competed with my school team at the FLL (First Lego League) at Rick Hansen Secondary School. There were 33[…]
Read more
---
The Brock News – December 1st, 2017 Brampton News – November 22nd, 2017 At the Peel Start Up Weekend, that happened on Nov 16-18, 2017, I did my first sales[…]
Read more
---